Skip to Content
Creating and Designing Your Own Custom Engagement Ring
Designing a one-of-a-kind engagement ring that perfectly represents your personality and love for your partner is an exciting process. You can have the final say on the center stone, metal, and design elements to create something that your bride-to-be will adore wearing every day. 
While crafting custom wedding bands may initially feel overwhelming, our talented jewelers will assist you every step of the way. We can help you design your own engagement ring from scratch with professional model wax casting and gemstone selection advice. Here's what to expect from the custom ring planning process.
3 Things to Consider at the Start of the Ring Design Process
1. Start Planning Early
Creating a custom ring can take a few weeks to two months. The complexity of your design, the jeweler's workload, and how often you make adjustments can impact your timeline. Plan and give yourself ample time to produce your custom creation before proposing. If you want to design the engagement ring together, leave enough time before the wedding to ensure it's ready for your special day. 
2. Determine the Style of the Ring
Researching ring designs early is an essential part of any marriage proposal checklist. Getting your fiancée to try on different jewelry will help you understand their likes and dislikes before you design your own engagement ring. You can visit a few jewelers or scroll through Pinterest and Instagram to save photos of the styles you like. Then, take these pictures to your jeweler as visual inspiration for your ring design.
3. Find a Jeweler You Want to Work With
Once you choose a design, you'll need a trained jeweler to build your engagement ring. You'll spend a lot of time collaborating with them, so choose someone who understands your design vision and has experience with custom engagement rings. 
View their previous work to confirm their style matches your quintessential aesthetics. Sometimes a jeweler may have an excellent idea for a base you can customize with gemstones and metal bands.
Key Elements of an Engagement Ring
Metal 
One of the biggest benefits of custom-made jewelry is the freedom of choice it offers. Going custom allows you to stray from yesterday's traditional yellow-gold engagement and wedding ring designs. Now, you can select the ideal metal to suit your style, whether white gold, platinum, rose gold, titanium, or palladium. 
Stone Type
Whether you choose diamonds or other precious gemstones, the beauty of creating a custom engagement ring is that you can select the stones you like best. You can highlight your fiancée's favorite color or use their birthstone for a 100% personalized ring.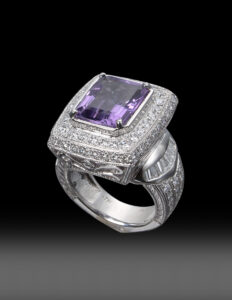 For a classic diamond ring design, you'll need to consider the four C's of diamonds – cut, clarity, color, and carat weight. Keep in mind that while bigger stones can change your ring's appearance, they may have a significant impact on your budget. You may also need to choose between natural and lab-grown diamonds when designing a custom-made ring.
Adding your own diamonds or stones from inherited jewelry can help you customize your engagement ring even more with a sentimental touch.
Ring Setting
The setting of your stone will impact the aesthetics of your ring. You can choose halo, prong, Tiffany, cathedral, bar, flush, channel, vintage, cluster, and more. Select a setting that beautifully complements your diamond or gemstone cut. Pairing unique settings and stones can help create a nontraditional engagement ring that speaks to your beloved's personality.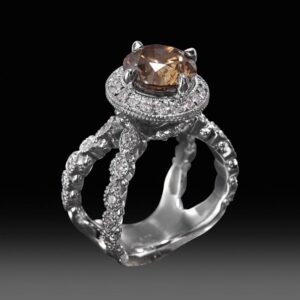 You can even design a ring with your wedding bands in mind. Consider a few wedding band styles you like and how they might complement your engagement ring design before choosing a stone setting. Whether you want your wedding band to sit flush with the engagement ring or maintain a small gap between the two will influence your final design.
Sketching and Design Process
After you've done your research and chosen a style and setting, you're ready to build your engagement ring. Our talented jewelers turn simple ideas into designer engagement rings with computer-aided design software and lost wax casting.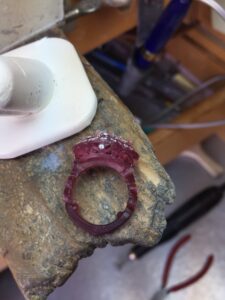 First, we create a digital model of your ring to help you finalize your design. This representation still has a few limitations in illustrating the final ring, so we also provide a wax casting. This technique lets you view every detail, try on a custom ring model, and express concerns or confirm the design. 
Once you're happy, we'll provide a time frame and cost estimate for casting and setting. This information can help you plan your budget and ensure everything is ready when you propose. We advise getting your ring early, especially when planning a Christmas or New Year's Eve proposal. 
The final steps in our ring design process include cleaning and polishing your custom jewelry to perfection and hand engraving any final touches.
Create and Design a Custom Engagement Ring With JPratt Designs
Collaborate with our talented and passionate jewelers for a unique custom engagement ring that suits your bride-to-be and is a beautiful representation of your love. We also offer jewelry appraisal, insurance advice, and professional ring cleaning to keep your engagement and wedding bands sparkling and safe for years to come.
Stay tuned, more blog items coming soon!
Have a Custom Design in Mind?