Skip to Content
A Complete Guide to Creating Custom Jewelry
There is something special and unique about wearing a one-of-a-kind piece of jewelry designed by you or a loved one. Whether it symbolizes a special occasion such as an anniversary, birthday or engagement, or you simply desire something to represent and complement your style, a custom piece is a perfect way to achieve your goal. Regardless of who the jewelry is for, it will be a treasure for both the giver and the wearer.
Why Consider Custom Jewelry?
There are numerous advantages to crafting a custom design, including uniqueness and an emotional connection. Whether you're elegant and sophisticated or bold and outgoing, you can get the perfect piece to reflect your personality. You'll wear your fine jewelry with pride, knowing there is sentiment, thought, emotion and memories put into crafting your special piece. Custom necklaces, bracelets, rings and earrings are made to a high standard resulting in a quality piece as every aspect is carefully assessed throughout the crafting process.
Different Types of Custom Jewelry Pieces
You can create various types of custom jewelry, including earrings, rings, bracelets and necklaces. While there are endless design options, our experienced team can fine-tune your vision and assist you in creating a custom piece that suits your style and budget.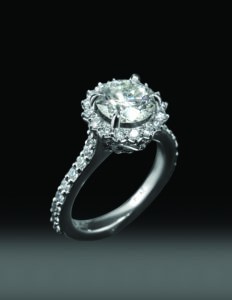 A unique engagement ring is a popular choice for custom pieces as you can readily craft a sentimental item that reflects your love as a couple. You can showcase a solitaire diamond with a detailed band, engrave a significant date and/or name on the inside, or even design a ring that reflects the bride's unique style. With a variety of options in metal, setting and stones, you're sure to walk away with a truly one-of-a-kind piece.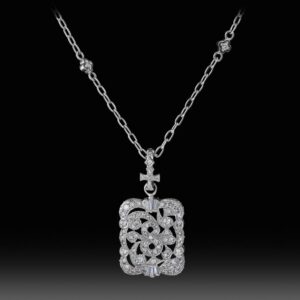 Necklaces and bracelets are trendy accessories, and you can enjoy crafting a piece of jewelry that meets your style and length expectations. Whether you desire a piece to match a specific outfit or to wear every day, an experienced jeweler can make a necklace to match a specific outfit or sit at a certain spot on your neck. Alternatively, you can design a custom bracelet for everyday wear, as a special occasion piece or as a gift for your bridal party or family. They are the perfect accessory to go with any outfits and you can personalize your style by stacking your favorite bracelets with custom designs.  
Custom earrings are the perfect solution when you want a pair to complement another piece of jewelry, such as a necklace. You can tailor the design to your style, from delicate studs to hoops or pendants.
How Much Does Custom Jewelry Cost?
A custom piece will have a custom price. However, most jewelers will collaborate with you to create your dream piece and can offer suggestions so you can get your desired look within your budget. The final cost depends on the type of jewelry you're designing, materials, time and skills utilized by the jeweler. The complexity of your design affects the final price.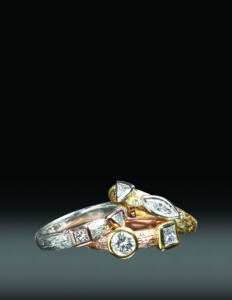 If you have intricate details, your jeweler will have to spend more time carefully crafting your piece and refining the elements that matter in your design. Your stone selection will also impact the cost.  The bigger or more gemstones you have, the more you can expect to pay. However, remember that custom jewelry is an investment piece. A lot goes into the jewelry-making process, and our team is dedicated to making your dreams a reality. We can happily guide you through the process, assist with the design, and provide you with everything needed to match both your design hopes and budget requirements.  
Custom Jewelry Making Process
There are various steps to the custom jewelry process, and it can take an average of up to ten weeks to create your unique piece. Our skilled team will keep you up to date throughout the entire process. Since ours is a three-step process, you will also be given the opportunity to preview a wax or CAD model about halfway through and then be provided a pickup date for you to finally receive your new piece!
The first step of the process is a design consultation where you'll meet with our designers. Our team will take the time to understand your overall vision, and guide you through the metal and gemstone selection process. Next, the designers will sketch an image of your custom piece, incorporating all your preferred design elements and expectations. We love the collaborative element in this stage – our designers work in tandem with you to bring your dream piece of jewelry to life.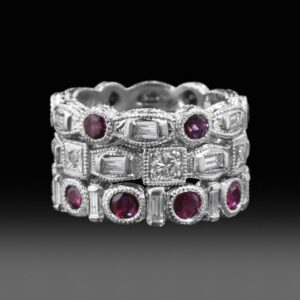 In the next step, wax carvings and CAD renderings will be used to show you how the final result will look before the piece is cast in metal formally. Once you give your final stamp of approval, your piece will be transformed into metal and continue through the setting and finishing steps concluding with a final appraisal at the end – all in time for you to pick up at your originally scheduled due date! 
What to Look for in a Custom Jeweler
To get the most value out of the custom jewelry experience, you should use a jeweler that offers a wide range of jewelry design services and has extensive experience. For example, consider whether the jeweler can cast or hand fabricate pieces, do their own sketches or use CAD, set stones and engrave custom pieces. You can ask to see examples of previous work to understand better what a jeweler can provide. When you select a diamond, request to see the certifications and an independent appraisal to ensure the quality of your piece matches your expectations.
Contact J Pratt Designs
At J Pratt Designs, we provide an exceptional and personalized custom jewelry experience so you can fall in love with and feel confident in your custom creation. Our talented and dedicated team takes the time to offer a comprehensive service with a focus on both quality and integrity. It is our desire that you not only love your jewelry, but you enjoy the process. Allow us the opportunity to walk alongside you as you create a one-of-a-kind piece of jewelry you'll treasure for years to come!
Stay tuned, more blog items coming soon!
Have a Custom Design in Mind?