Skip to Content
Ideas to Consider for Nontraditional Engagement Rings
For many decades, people have sought various ways to make an engagement memorable. From planning romantic dinners and sunset picnics to surprise parties with family and friends, many have gone the extra mile to create the perfect scenario when asking their special love to be their spouse. However, one of the most exciting elements in every situation is always the engagement ring.
Traditionally, the most popular engagement rings style boasted a solitaire diamond with a round cut. There are numerous ways to move away from this classic style and design a unique engagement ring that suits your love perfectly. Whether using asymmetry in your design, having gemstones such as emeralds, rubies, or sapphires, mixing metal, or varying the shape as the accent stone, you can propose a unique design to suit your fiancé's personality and lifestyle.
If the thought of choosing a one-of-a-kind engagement ring leaves you excited yet also confused about where to start, our guide provides excellent advice and design ideas.
Why Nontraditional Engagement Rings?
There are numerous benefits to collaborating with an experienced jeweler for an alternative engagement ring. Unlike traditional engagement rings, unconventional custom styles are unique, handmade with love and thoughts of your future together going into the design. Every detail is carefully selected to create a one-of-a-kind piece that truly represents a couple's journey and future together. 

You get the opportunity to collaborate with a jeweler and choose the perfect gemstone, metal, band width and more, all while supporting an independent business that values its clients. They also understand that an alternative style means different things to everybody and will take the time to comprehend your unique vision.
Defining Your Engagement Ring Style
Engagement rings are a symbol of love and commitment between two people. Therefore, whether your bride loves rose gold, emeralds, or desires a unique diamond cut, the ring should be one that you both love and represents your style.
Colored Gemstones
Using colored gemstones is one way to break with tradition. Various color selections are available, from romantic rubies to regal sapphires and charming emeralds. You can showcase one of these precious stones in the center of the ring, use smaller cuts to surround a large diamond or have them cover the band in a tasteful color display.
You can change the tone and mood of a ring with light and dark gemstone shades. Black diamonds have a color richness that can draw your eye in, and they can offset a white stone giving your ring a moodier appearance. A bright and light palette with soft colored gemstones such as amethyst can provide a refreshing demonstration of modern romance. You can create an alternative engagement ring with bold or pastel-colored gemstones to suit your personality. 
Traditional rings often have a round cut diamond so if you want to create something different that has an impact, consider various shank shapes and gemstone cuts. You can create a one-of-a-kind piece with a meandering or twisted shank and accented diamonds running around the band. You can also avoid the popular round solitaire style by exploring unique gemstone geometry such as the oval, triangle, hexagon, crescent, half-moon and cushion cut. If you love vintage styles, baguette and pear shapes provide beautiful aesthetics, or you can pair unusual cuts for a truly unconventional engagement ring. 
Choosing the Right Metal
Your metal selection can change the tone of your ring. If you want to move away from traditional gold, you can readily soften the look of your ring with rose gold or, for an alternative appearance, consider mixing metals within one design. Interwoven yellow and rose gold can enhance your engagement ring and set it apart from other styles.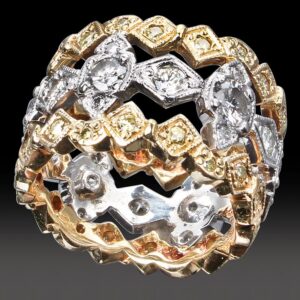 There are endless setting and style options that can change the look and feel of your ring. Depending on your gemstone placements and band style, you can lean towards classic, eclectic, vintage or modern themes. By using an independent jeweler and creating a custom engagement ring, you can fine-tune your style to match your vision and create a unique piece tailored towards your bride-to-be. You can get creative with a tension-style ring and include intricate designs along the band or create a themed ring with a floral design inspired by your fiancé's favorite fairytale.
Designing Unique Engagement Rings
With numerous elements and choices to consider for an alternative engagement ring, the best solution to getting precisely what you desire is to design it yourself. Our in-house designers and jewelers provide a comprehensive service and take you through the process step by step so you can give careful consideration to your gemstone, metal and band selection. We also create a wax model for you to view to see what to expect with the final piece and make any important changes before our jeweler completes your custom ring. Once you go through the custom engagement ring process, you are sure to feel more confident designing nontraditional wedding bands for your special day.
Contact J Pratt Designs
At J Pratt Designs, we provide an exceptional and personalized custom jewelry experience so you can fall in love with and feel confident in your custom creation. Our talented and dedicated team takes the time to offer a comprehensive service with a focus on both quality and integrity. It is our desire that you not only love your jewelry but you enjoy the process. Schedule an appointment so we can help you create a one-of-a-kind piece of jewelry you'll treasure for years to come!
Stay tuned, more blog items coming soon!
Have a Custom Design in Mind?