Skip to Content
The Complete Guide To Finding The Perfect Wedding Band to Complement Your Engagement Ring
As you prepare to walk down the aisle and say, "I do," there are numerous details to organize for your special day, and one of the most important is selecting wedding bands. While traditional plain bands are still a popular option for many brides and grooms, there are now an array of intricate designs and styles available. A custom wedding band gives the option of creating a ring that symbolizes your unity and suits your personality, along with being the perfect complement to your engagement ring. 
With our informative wedding ring buying guide, we'll take you through different considerations so you can have a fun and enjoyable shopping experience choosing the perfect band. 
Wedding Ring vs. Wedding Band
You may hear some people referring to their wedding ring as a band or vice versa and wonder if they are different. A wedding ring is often adorned with gemstones and diamonds, while a wedding band is a simple, plain metal circle. However, as ring styles have changed over the years, the terms have become interchangeable.
Exploring Different Wedding Ring Styles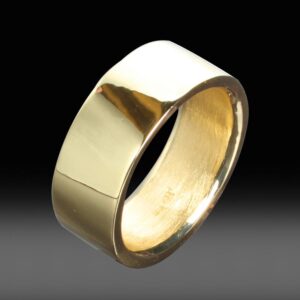 There are various ways you can approach choosing a wedding band. Some couples want to follow tradition and have matching bands to represent their union, while others prefer different styles to suit their unique taste. Regardless of your approach, be sure to browse wedding ring styles and select one that coordinates with your engagement ring. 
You may not give much attention to the metal selection or design when it comes to men's wedding ring styles. However, with so many options readily available, you should put in just as much effort to find the perfect groom's band as the bride's ring. It's important to consider comfort and style as your wedding band is worn daily.  
Ring Size, Width, and Thickness
Your wedding ring should be comfortable to wear yet have a slightly snug fit, so it doesn't come off easily. Your fingers can change sizes slightly depending on the weather, so professional sizing is essential to ensure that your ring is made to the correct measurement. 
The width of the ring is how much of your finger it covers. Some factors, such as stone settings, can impact the width, as you want to ensure that your band is structurally sound allowing it to withstand numerous years of wear. Ladies' wedding rings ideally have a width of between two and four millimeters, while men's bands are four to seven millimeters. However, it is your personal choice, and you may prefer the look of a wider band on your finger. 
Choosing the ideal thickness is essential if you don't want your band to wear down too quickly. The thickness of your ring can also depend on the stone depth and whether you wish to engrave your band. Our skilled jewelers ensure that every ring we design is created with endurance and structural integrity so that it can stand the test of time.
Ring Setting Styles
Wearing a wedding band with diamonds can enhance your engagement ring or add a point of difference to your jewelry. There are numerous setting styles, i.e. shared prongs, bead setting, fishtail, etc – each style can either add a unique element to your wedding set or coordinate with your engagement ring, mimicking the stone setting to create a matched pair.  
Bead setting is when a hole is drilled into the band to hold each diamond. You can get a smoother and more flush look with this setting, as the diamonds are held in place with a bead of metal that slightly covers the edge of the stone. This style varies slightly from the channel setting in which diamonds are laid next to each other in a row between the two walls of the ring. These walls are then pressed down over the edge of the diamonds to hold them in place. Prong setting is probably the most traditional and involves prongs holding each stone in place in a style similar to how a center diamond is set in an engagement ring. 
Ring Design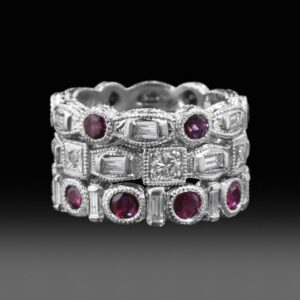 Once you've decided on your setting style, you can have fun planning the ring design. The classic band is a traditional design for men. However, a two-tone ring with a mix of metals is a simple way of adding more detail without being over the top. 
A custom-made fitted wedding ring will ensure you can wear both rings comfortably. On the other hand, you might try the more nontraditional stacked rings, and because the band follows the shape of the diamonds, these can provide a unique look with noticeable gaps between the rings.  
Finishing Touches
Finishing touches such as metal selection, gemstones, and engravings are what make your wedding ring unique. With a custom creation, you can also create matching one-of-a-kind his-and-hers bands or add the same inscription on the inside for a personalized touch. 
When You Should Choose Your Wedding Band
We recommend choosing your bands at least four months before your special day. Selecting the perfect wedding ring should be an exciting and stress-free experience, so you want to ensure you have plenty of time to make decisions and make adjustments without feeling rushed. Our experienced and knowledgeable design team can guide you through the custom creation process so you can have a one-of-a-kind piece to suit your style. We use premium materials, diamonds, and gems and finish our jewelry to an exceptionally high standard. 
Contact JPratt Designs to make an appointment for a personalized consultation.
Stay tuned, more blog items coming soon!
Have a Custom Design in Mind?