Skip to Content
Creative Ways To Propose on New Year's Eve
The holiday season often sparkles with romance, making New Year's Eve the perfect night for a magical marriage proposal. It's a time for celebrating new beginnings, so why not commemorate the symbolic moment with the person you want to spend the rest of your life with? 
You might already be surrounded by friends and family on the night, making celebrating your engagement even easier. If you plan to dress up for a party, you and your fiancé will look flawless in your first photos together as an engaged couple.
Here are some romantic New Year's Eve proposal ideas:
Throw a New Year's Engagement Party
If your partner is family-oriented or loves celebrating big moments with their friends and family, this proposal idea is for you. New Year's Eve is the perfect excuse to throw a party and gather your loved ones to celebrate without your partner suspecting your proposal. You can get some of your guests in on the surprise to make sure the evening runs smoothly, giving you the floor when it's time to pop the question. A New Year's Party is already humming with anticipation, with lots of champagne at the ready for when they say "yes."
Find a Rooftop and Watch the Fireworks
Spending New Year's Eve on a secluded rooftop with your partner overlooking the city lights is the perfect setting for an intimate marriage proposal. You'll need to organize rooftop access in advance, giving you enough time to set up a private dinner with champagne and fairy lights to set the mood. After your candlelit dinner under the stars, set up some deck chairs or a picnic blanket to watch the fireworks together and get ready to pop the question. Whether you choose to propose before or after midnight, sparks are sure to fly!
Propose When the Clock Strikes Midnight
Midnight on New Year's Eve is the ultimate time to propose, making your partner feel extra-special with the whole room counting down to your engagement. Drop down on one knee as the clock strikes midnight to propose to fireworks and fanfare, enjoying a secret moment away from the crowd or among family and friends. If you are throwing a private party, you can get your guests to go silent just before the ball drops, giving you the room for your big moment. This proposal is sure to end in a New Year's kiss like no other!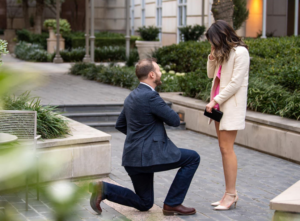 Romantic New Year's Resolutions
New Year's is a time to reflect on the past 12 months and look forward to your next chapter — the perfect occasion for proposing to your partner. You can start your proposal by reminiscing over your favorite memories from the year, talking about your future together, and asking your partner about their resolutions. When it's time to share yours, let them know you want to get married to the love of your life, drop to one knee, and pop the big question. This idea is perfect for an intimate proposal away from the crowd, giving you privacy to share the moment together during the first few minutes of the new year.
Create Custom Holiday Decorations 
If your partner loves the holidays, you can extend the festive cheer into your marriage proposal by incorporating engagement jewelry into your New Year's Eve décor. If you have a Christmas tree, you could swap your regular ornaments for personalized trinkets or hand-written notes expressing your feelings to your partner before popping the question. You could also use love-letter confetti or personalized champagne bottles to celebrate your New Year's engagement. This proposal idea is sure to impress your partner, especially if she is one who loves hand-made gifts and cute, sentimental gestures.
 Create a Winter Proposal Outdoors
Winter weather brings people together, and there will be plenty of opportunities for a romantic night in with your partner. Start your New Year's off right with a romantic evening walk among the holiday lights and winter air, leading your partner to a secluded spot under the stars. Get your friends and neighbors to help shovel your proposal into the snow, or pose the question in fairy lights, candles, holly, or poinsettia. If you don't live in an area with much snowfall, why not plan a New Year's getaway to explore a festive village and surprise your partner with an unforgettable outdoor proposal?
Get Your Partner a New Year's Gift at JPratt Designs
Whether you typically celebrate the new year with gifts or not, giving your partner a special present on New Year's Eve is sure to make their heart melt. Wrap the ring box as-is, or create a custom gift based on your partner's personality — try placing the ring in a hollowed-out book, picture frame, or seashell for a unique marriage proposal. You can even place the engagement ring in a locket engraved with your initials to give your partner another special piece of jewelry to remember the day.
No matter how you choose to propose, JPratt Designs can help make the moment more magical with a custom engagement ring. We handcraft all our jewelry and involve you in the design process from start to finish, ensuring each piece is truly one-of-a-kind. Get in touch to visit our local jewelry studio in Dallas, TX, and start designing your partner's dream engagement ring, or browse our blog for more marriage proposal ideas.
Stay tuned, more blog items coming soon!
Have a Custom Design in Mind?