Skip to Content
The Ultimate Guide to Anniversary Jewelry
Whether you've been together for one, 10, or 20 years, every milestone is worth celebrating. A beautiful, new piece of jewelry can be the perfect way to express your love and affection for your partner and remind them how much they mean to you. 
However, the hard part is deciding which type of jewelry to give them and how to avoid giving the same gift every year. While no rule states you can't buy a stunning diamond ring every year, other jewelry options, such as bracelets, necklaces, and  earrings, mean that your partner can wear multiple treasured pieces together. You can choose the ideal wedding anniversary jewelry with our extensive gift ideas. 
Anniversary Jewelry
Gift
Ideas
Celebrating anniversaries with jewelry is not a new concept. In medieval times, husbands adorned their wives with silver and gold wreaths on special milestone years such as the 25th or 50th anniversary. While your partner may not want a tiara or crown as a gift, considering your anniversary year can provide ideas for selecting meaningful jewelry. 
Milestone years are worth a big celebration, and it's the perfect time to select the finer jewelry items that have extra significance. You can gift the corresponding metal or gemstone for your first, fifth, and 10th years of marriage and then, in other years, opt for pieces such as a necklace or earrings that your partner can wear every day. 
The best person to get jewelry ideas from is your partner. You can still keep your gift a surprise with some careful investigation. Consider what type of jewelry they wear regularly. Is there anything they want to replace or upgrade? Is there a piece of jewelry they've mentioned always wanting? Also, take note of their favorite metal and gemstone colors and consider whether they're the type of person who only wears gold jewelry or if they're open to mixing and matching. 
You can first think of jewelry ideas in general terms, such as a bracelet, necklace, or earrings, and then choose one to suit your partner's tastes, personality, and lifestyle.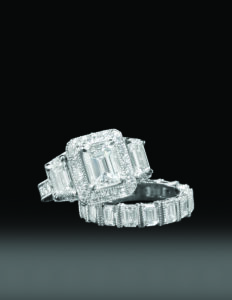 You can choose various modern jewelry gift ideas for your anniversary celebration. Here are our favorite suggestions.
First-year anniversary means gold jewelry. The first year of marriage is sweet and so memorable. What better way to acknowledge the honeymoon phase than with a beautiful piece of rose or yellow gold jewelry? You can set yourself up for future gifts by adding a diamond band to an existing wedding set or customizable earrings. A paperclip necklace is a modern, timeless take on the traditional first-year paper gift, or a beautiful pair of golf hoop earrings is ideal for a woman who likes to keep her jewelry collection classic and modest.
Diamonds represent a decade. A three-stone diamond necklace can symbolize your past, present, and future together or gift a pair of sparkling brilliant cut earrings to mark your milestone year. If you're taking the opportunity to renew your vows or want to add some extra sparkle to her engagement ring, consider upgrading the wedding ring. You can transform what might have originally been a solitaire and can now be a stunning three stone ring.
While anniversary jewelry is often associated with a gift for her, there are just as many options for choosing a special gold or platinum piece for him. Think of pieces that represent the strength of your union, and they can wear for a lifetime. 
Some weddings are expensive, so your first anniversary is the perfect time to gift your man the ring he always wanted. A new gold ring with an inscription, your initials, or your wedding date is a perfect gift he can treasure and keep as a reminder of your special day. 
If you're following the traditional metal and gemstone anniversary gift idea, you can get creative with your 10-year diamond milestone. A nice Rolex is ideal for maintaining your theme without going over the top. Rolex makes varying styles with a range of specs (different color face, two-tone vs. stainless, diamonds on the dial, etc.) that could represent varying anniversary milestones. If your partner enjoys understated jewelry, consider cufflinks or a cool leather piece. Cufflinks can be designed with a specific motif or element in mind that caters to your significant other's personality. At JPratt Designs, we have created cufflinks with the Ferrari logo, elk teeth, and clients' business logos. Leather pieces are a great option for men who prefer more understated, rugged jewelry. A diamond pendant is also an easy way to elevate jewelry, and any beloved partner is sure to love keeping your gift close to their heart.
Celebrate Your Anniversary With Custom Jewelry From JPratt Designs
When you opt for a custom design, you can create the perfect anniversary jewelry to suit your milestone year, your partner's personality, and more. We provide exceptional customer service and use premium metal and quality gemstones to make our custom jewelry. You can collaborate with our talented design team and craftsmen for a stunning anniversary jewelry gift to suit your vision and budget. Contact us with questions or book a comprehensive consultation with our experienced professionals.
Stay tuned, more blog items coming soon!
Have a Custom Design in Mind?