Skip to Content
The Ultimate Guide to Corporate Jewelry
When choosing corporate gifts to hand out at events, celebrate wins, or show your appreciation to clients, many companies consider generic items such as pens, mugs, and tote bags. While these are easy and useful items to adorn with your company name or logo, they can lack creativity and meaning. 
Corporate jewelry gifts, such as custom pins, bracelets, cufflinks, watches and tie clips, are a high-end alternative that can provide numerous benefits. You're sure to impress your recipients with a thoughtful, classy, and  stylish gift. They are more likely to wear jewelry than carry a tote bag, and it's an ideal conversation starter to initiate a discussion about your brand. 
Whether you incorporate your logo into the jewelry, use gemstones in your company's colors, or include other design elements, there are various ways you can make corporate jewelry unique to your brand. Our skilled and experienced jewelers can guide you through the design and creation process so you can hand out one-of-a-kind gifts that match your brand, event, or milestone.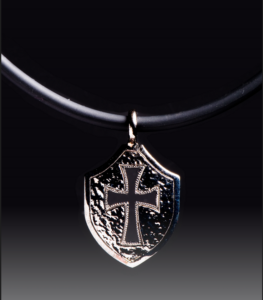 Celebrate With Corporate Jewelry
Regardless of the industry you work in, there are numerous occasions your company can celebrate with jewelry, including employees' long service, loyal clients, and high-value transactions or exceeding target sales. 
Employee Awards
You can instill loyalty and encourage your employees when you recognize their achievements and express appreciation for their dedicated service. Engraved custom watches are a perfect way to celebrate your employees. Whether you acknowledge 10 or 20 years of dedication to your company, you can say thank you with a unique watch engraved with their milestone year, employment start date, or another memorable point in time.  
Custom cufflinks, rings, and lapel pins are popular corporate gifts that employees can appreciate and wear proudly without detracting from their professional aesthetics. You can show a small token of appreciation for employees who show commitment to your company and exceed expectations. Offering incentives is an ideal way to improve your company's productivity. With a luxury item such as jewelry, your employees may make the extra effort to reach their goals.  
Client and Executive Gifts
You can gift small and significant jewelry for various reasons, including recognizing valuable and faithful clients. Top partners and executives are also essential to your company's success, and gifting them custom-made jewelry with gemstones and premium materials is sure to show them you value their contribution. Tie clips, necklaces, bracelets, and company rings are popular corporate gifts that your recipient is sure to appreciate and wear with pride.
Furthermore, custom jewelry created with your logo, company colors, or other distinguishing factors is a classy and effortless way to share your brand with others within and outside the company. Tie clips, brooches, and cuff links adorning your clients and executives can make excellent conversation starters, indicate that your company is a rewarding workplace, and encourage employees to work towards milestones.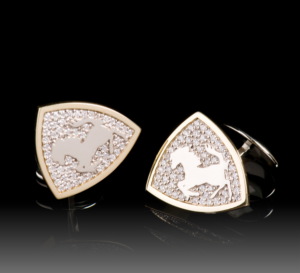 What To Consider When Designing Corporate Jewelry
There are numerous factors to consider before creating custom jewelry for your clients, employees, and executives. Ask yourself if you'll give jewelry to men, women, or both. The answer to this question can immediately help you choose a suitable type of jewelry for your recipient. You should also consider if you want unique jewelry designs for different recipients, such as using one type of gemstone for clients and another for employees.
You need to consider whether you're gifting a one-of-a-kind piece and, if so, how you can tailor it to the recipient. For example, a custom engraved watch can have a memorable personal inscription. On the other hand, if you want to order several units of the same custom piece, you could design corporate logo jewelry or incorporate company colors into the tie clip, brooch, bracelet, or necklace using gemstones.
Create Custom Corporate Jewelry With JPratt Designs
When you collaborate with a professional design team and skilled jeweler, you can create unique, stylish, and premium custom jewelry that your clients and employees will love. Our experienced professionals can guide you through the entire custom jewelry creation process with ease and a wealth of information. We provide you with ample knowledge about styles, materials, gemstones, and more so you can create a unique design that matches your brand and choose the ideal type of jewelry to suit your recipient.
During our collaboration, we will create sketches and renderings so we can readily visualize the end product and make changes before completing the final piece. We make all our jewelry using premium products and quality gemstones to ensure they are treasured for a lifetime. 
Contact our skilled and experienced team for a comprehensive consultation for quality corporate jewelry gifts.
Stay tuned, more blog items coming soon!
Have a Custom Design in Mind?