Skip to Content
Popular Necklace Styles You Need in Your Jewelry Collection
People have accessorized their outfits with jewelry, such as necklaces, for centuries. Many people in the 14th to 17th centuries used necklaces to highlight social standing and prestige. 
While you may not need a chain and pendant to boast royal bloodlines, finding the perfect women's necklace style is the ideal way to enhance your outfit, make you feel confident, and impress those around you. 
Jewelry trends are similar to fashion trends in that they come and go in cycles, so we've selected the current most popular types of necklaces to give you an idea of what to wear. If you love several styles, yet struggle to find the perfect design, consider creating custom necklaces with our skilled designers and jewelers. This way, you can personalize your design with extra detail and your choice of metal and gemstone.
Initial Necklace
Initial necklaces are personalized pieces of jewelry that can make a statement. They suit those who prefer simple yet elegant jewelry designs and lean more toward a minimalist look. This design makes an ideal sentimental gift, as you create custom necklaces for her using your initials, her children's names, or the letters of anyone significant in her life. 
Layered Necklaces
We know that sometimes picking just one necklace to wear is difficult when you have several favorites. That is why layered necklaces are popular for those who enjoy mixing and matching their jewelry. Necklaces designed with two or three layers allow you to express your personality and style with complex combinations, but are crafted to prevent chains from tangling. 
Tennis Necklace
You can easily add some glamor and elegance to any outfit with a tennis necklace. The continuous band of diamonds suits any style making it the perfect accessory for everyone. While single strands with small uniform diamonds are a popular choice, you can readily showcase your style by choosing a design that suits your personality or mixing it with other chains. Tennis necklaces come in a wide range of designs including increasing diamond size along the chain, double rows, emerald cut, and more.
Solitaire Diamond Pendants
A solitaire diamond pendant can elevate your look instantly. The classic design exudes elegance and sophistication with minimal effort. The eye-catching diamond shimmer is the perfect timeless piece you can wear with a casual outfit or dress up for a night out. With various styles, settings, and metal options, you can readily tailor a piece to your style and enjoy wearing it for a lifetime.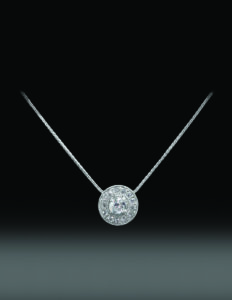 Coin Necklace
If you love stylish jewelry with a more modern edge or a little funky stylet, coin necklaces are the perfect choice! . They provide a chic yet sophisticated look that you can wear every day, whether you're heading to an important meeting or running errands.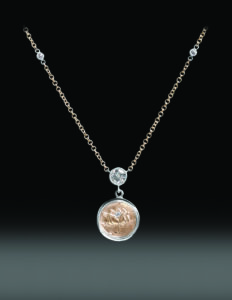 Custom necklaces with a coin pendant ensure you can wear your token at the perfect length or layer with multiple chains at various lengths for a unique style. This style is also ideal when you require custom necklaces for men, as you can create a masculine version with a slightly larger coin or thicker chain.
Chokers
Chokers are the perfect way to stand out and make a statement with jewelry. They are suitable for any outfit, adding the final polish to a little black dress and a touch of style to your everyday wear. Simple, one-stranded chain chokers are a delicate choice for any outfit, or you can show some personality with a colorful gem choker.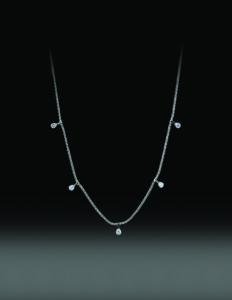 Charm Necklaces
Charm necklaces are a similar style to charm bracelets. You can have fun displaying unique symbols of your favorite things with several fun charms. This necklace style is an easy way to create a personalized accessory, as you can mix and match trinket metals, add colorful gems on charms, and you can always add more charms in the future.
Custom Necklaces With JPratt Designs
Whether you want a complementing custom gold necklace or a sentimental charm design you can pass on to your children, our skilled and talented jewelers provide exceptional service. We have extensive experience creating a wide range of custom designs to suit our clients' requirements, and we hand carve every piece to ensure the highest quality finish. 
You can wear jewelry that suits your personality and lifestyle with our excellent custom jewelry service. Contact us to find out more about our custom jewelry design process.
Stay tuned, more blog items coming soon!
Have a Custom Design in Mind?