Skip to Content
What Is Jewelry Repair and Why Is It Necessary?
If you're in Dallas and looking for a unique, custom-designed jewelry piece, JPratt Designs is a custom jeweler nearby.
We also provide reliable and high-quality jewelry repair services. So instead of parting ways with your beloved jewelry items, reach out to us for professional jewelry repair.
What Are Jewelry Repair Services?
Repairing jewelry includes services such as adjusting rings to fit a different finger size, reconstructing broken chains, fixing clasps, tightening or replacing stones that are loose or missing, or stabilizing areas with metal fatigue.
How Much Do Jewelry Repairs Cost?
Repairing your jewelry relies on varied tools, techniques and time. The final repair cost will thus depend on the item, the materials, and the extent and complexity of the work required. At JPratt, we are happy to include an estimate prior to completing any work. We also cannot guarantee that a repair or the ability to repair over the phone. It is always best to have a knowledgeable jeweler review what the issue is in person and discuss how the repair would best be completed.
Here are some guidelines on what to expect for some common jewelry repair service requests:
Cleaning:

For a cleaning and shining service, including buffing out shallow scratches, anticipate a fee of $80.

Ring resizing:

Sizing up may require additional metal, so expect to pay from $90 to over $200.

Fixing a broken chain:

This fix, which usually requires soldering, can cost between $30-$230, depending on the fractured area and the metal type. It's usually between $30 and $35 for a single link repair.

Replacing a clasp:

Expect to pay between $65 to $250 or more, depending on the metal type, size and style of the clasp. 

Remounting a stone:

Expect wide variations in costs for this type of repair, as there are numerous settings, sizes and mounting styles. However, as a guide, budget $50 to $175.
We are happy to provide an informed estimate to help you understand the fee involved in your jewelry repair services. 
Who Repairs Jewelry? 
Typically, professional jewelers and jewelry repair technicians can repair your pieces.
This type of jeweler has a wide range of skills, including making adjustments, adding or removing pieces, repositioning or remounting, soldering parts together, replacing clasps, stones, or links, cleaning and polishing metals and gems, repairing and soldering, and handling mechanical jewelry pieces. 
In addition, they are proficient in managing and maintaining equipment such as fixtures, jigs, polishers, and soldering irons and using hand tools, including shapers, gougers, cutters and scrapers.  
A trained, qualified jeweler or repair technician will maintain or repair your piece without leaving any visible evidence, such as tool marks, visible seams, stretched shanks or damage to stones.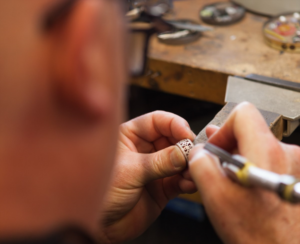 How Long Does Jewelry Repair Take?
Avoid rushing your jewelry repairs unless you're getting married within the next few days. Master jewelers with specialized skills are hard to find, and their meticulous work takes time. 
As a result, relying on a reputable and professional jewelry repair service can mean a wait of one to three weeks, depending on capacity and the nature and extent of the work required.     
Why Repair Your Jewelry? 
Even when jewelry is well maintained and carefully stored, wearing your favorite pieces daily can result in erosion, metal fatigue, and general wear and tear. In addition, breaks and damage may occur accidentally. 
So to keep your items in good condition, extend their longevity, your enjoyment, and maintain the piece's value — especially for family heirlooms — professional repairs and replacements are often unavoidable, and regular cleaning and maintenance are recommended. 
Crucially, don't take risks when you've invested in fine jewelry. Instead, rely on qualified and experienced local jewelry repair services like JPratt Designs for reliable, durable and value-for-money results.
Types of Jewelry Repair
We can address almost any type of jewelry and metal problem — even the most intricate, including: 
Chain

shortening, lengthening,and repairs.

Ring

sizing; shank repair or replacement; tip and prong repair or replacement; soldering (joining multiple rings together; for example, your wedding and engagement rings); and channel repair (reconstructing or repairing the metal strips in a ring's band that holds the stone).

Bracelet

repair; relinking joints or hinges, for example.

Earring and brooch

repair or parts replacement.

Gemstone

resetting, remounting or replacement.

Clasp

repair or replacement.
We also provide general jewelry maintenance and refurbishment — cleaning, polishing and tightening — to keep your jewelry in good condition for longer.
Why Consider JPratt Designs for Your Jewelry Repairs?
We have more than three decades of experience in jewelry repairs and a well-equipped locally owned jewelry repair shop. Our dedicated team offers superior artistry — our skills, tools, knowledge and passion yield flawless outcomes at competitive prices. JPratt Designs' repair services include cleaning, polishing, replacement, repositioning, soldering and plating — everything necessary to fix and refurbish your pieces. So even if your jewelry is in pieces or has parts missing, please bring it to us. 
If you're searching for trustworthy "jewelry repair near me," contact us to book your Dallas jewelry repair consultation today. We look forward to hearing from you. Please note that to provide our clients with the time and dedicated attention they deserve, we operate by appointment only.
Stay tuned, more blog items coming soon!
Have a Custom Design in Mind?