Skip to Content
When is It Time to Resize Your Ring
There is nothing more disappointing than wanting to wear your favorite ring only to discover that it no longer fits. Whether it's an engagement ring or a family heirloom, you may need a professional jeweler to adjust the size so it can adorn your hand once again. 
We understand that leaving your precious jewelry at the store can feel a bit daunting. But with our ring size guide, you can find out everything you need to know about the process, such as the cost following a consultation , when to get it done, and why you should visit a professional jeweler for your jewelry repairs. 
When to Resize a Ring
The most obvious sign that your ring needs resizing is that it no longer fits your finger. If you can't get your ring over your knuckles or it feels uncomfortably tight, you'll want to seek advice from an experienced jeweler for an adjustment. If you prefer your ring to have a tight fit so it doesn't slide off easily, ensure that it's snug without hurting your finger. You want to enjoy wearing your ring without annoyance or discomfort.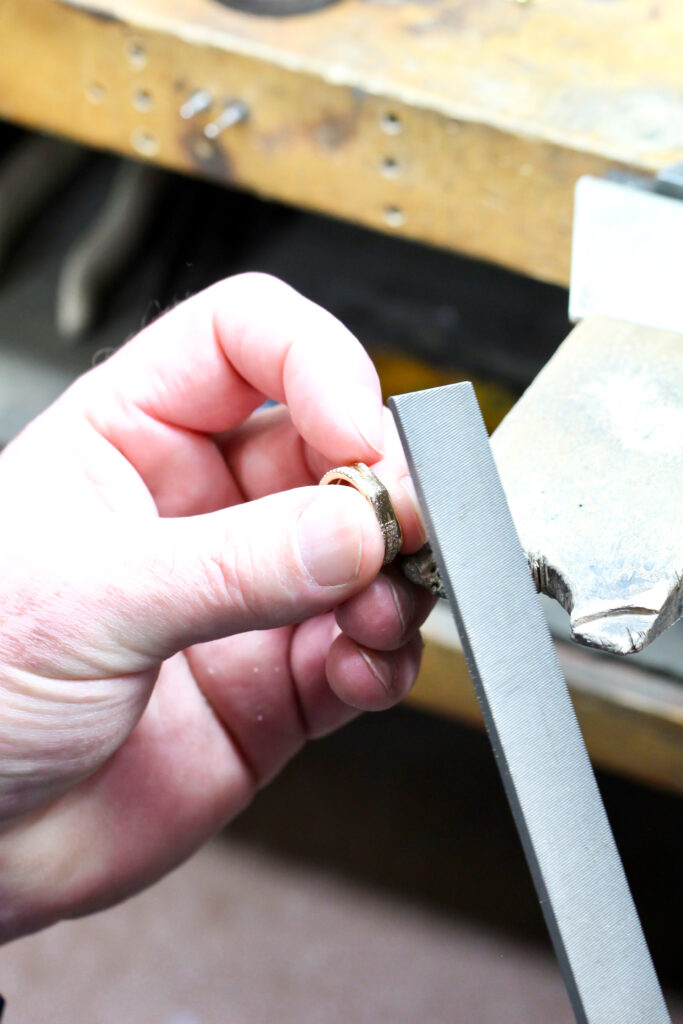 Another indication of an ill-fitting ring is that it's loose, and you constantly worry about it falling off your finger. If you find your ring fits yet often spins on your finger, or that you can remove it with minimal effort, you may want to consider resizing. While your ring turning on your finger due to hand movement may not bother you much, this motion can damage your gemstones. A simple solution is anchor beads or an anchor bar. More often than not, a ring spins on a finger because it was sized to accommodate an individual's knuckle size rather than their actual finger size. Anchor beads and anchor bars alleviate the problem by allowing the ring to still go over the finger while also comfortably gripping the fleshy part of the finger so that the ring doesn't turn.  A loose-fitting ring can also slide off more easily without you noticing, especially when you sweat or are in the swimming pool. 
Pregnancy can lead to many changes in the body, one of which may be swelling. However, these changes tend to go away after your baby is born, so if you're trying to decide when to resize your ring after pregnancy, we recommend waiting a few months post-birth before taking action. If you still can't get your ring on after three months, seek advice from our professional team regarding the best resizing process. 
Keep in mind that temperature changes can also make your ring feel loose in cold weather or tight as your fingers swell due to heat. These changes are often temporary, and you shouldn't need to resize your ring. Instead, take off your ring and store it in a safe place until you can wear it again.
How Should a Ring Fit?
Your ring should feel light and comfortable on your finger and require minimal effort to slide on and off. You can check the fit by sliding your ring on and off — if it takes a few seconds to get it over the knuckle, it's probably a good fit. Another important factor that might affect how your ring fits is whether you take your ring on and off multiple times in a row. Doing so agitates the knuckle, which will then skew the opinion on how it fits since the knuckle will be swollen from constant adjustment.
How to Measure Your Ring Size
The best way to find your size is to visit a professional jeweler. They will have a convenient and easy sizing tool and ensure your ring is adjusted to the ideal measurements. If you can't make it into a store or send your jewelry away in the post for resizing, you can wrap a piece of string or paper around your finger and measure the strip against a ruler. You can then look up a women's ring size guide online and convert your measurement to your ideal ring size. Alternatively, you can measure a favorite ring that fits well and adjust your band to that size. Be aware that a ring size guide for men's jewelry differs from a women's chart.
How to Resize a Ring
Take your ring to an experienced and trusted jeweler for resizing. We recommend being without your ring for a while rather than attempting to resize it yourself and causing expensive damage. Professional jewelers are well-trained and experienced in the resizing process, so your ring will maintain its beautiful aesthetic and structural integrity. Before leaving your ring with anyone, it is vitally important that someone test your diamonds. If they are unable to do so, don't leave it with them. Any reputable jeweler will have the necessary equipment.
If you need to increase your ring size, there are several things a jeweler will do, depending on your individual needs. The jeweler may cut the bottom of the ring and add more metal to the shank (the part that encircles your finger). They take care to ensure that the resized ring shows no signs of adjustment, such as a different metal color or cut marks. If your ring is loose and you want to make it smaller, a jeweler can cut and remove a part of the metal and then rejoin the ends by soldering them together. An experienced professional will clean and polish your ring, and a resize, buff and polish service will make your ring appear new. 
What Does a Ring Resizing Cost?
The cost of resizing will vary between different jewelers. It will depend on various factors, such as how intricate your ring design is, the thickness of your band, the metal, and what's required to resize your jewelry. For example, if metal needs to be added to your ring to increase its size, you will have to pay for the additional material. If you want to adjust several pieces, you'll need to ask your local jeweler for a quote based on each ring's individual resizing requirements.
Get a Professional Ring Resize With JPratt Designs
We provide an excellent jewelry resizing service for our customers. You can trust our experienced and skilled jewelers to take exceptional care of your ring and resize it using quality tools and materials. Contact us for ring resizing tips and advice or to make an appointment for a jewelry repair and adjustment service. 
Stay tuned, more blog items coming soon!
Have a Custom Design in Mind?