Skip to Content
What to Do After Inheriting Estate Jewelry
Inheriting jewelry from a loved one can have you asking many questions, such as how much is it worth? Should I sell it or wear it? Perhaps the jewelry has sentimental value, but it's not your style, which puts you off wearing it and enjoying it. 
If you're wondering about these or have other questions, consider enlisting the services of a professional and experienced jeweler. They can assist you in appraising your pieces and provide you with knowledgeable advice about the next steps you can take, such as selling or redesigning pieces to suit your style.
Why Get Vintage Jewelry Appraised? 
There are various reasons to get your inherited jewelry appraised, such as for insurance purposes or if you're considering selling your items. Knowing the value of your pieces can give you a better idea of how much it would cost to replace the jewelry if it were stolen or lost or to help determine list prices and values for an estate and auction listing.
Our team has over 30 years of experience assessing and appraising jewelry and commits to providing an honest and reliable representation. We consider the condition of your pieces, the quality of gemstones, the type of metal, and any documentation you may have to support your jewelry. The value of your pieces is determined based on current market conditions. As the price of precious metals and gemstones such as gold, platinum, and diamonds change over the years, so will your jewelry's value vary.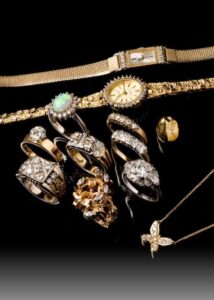 Factors That Influence Antique Jewelry Appraisals
Factors that affect appraisals include materials, craftsmanship, beauty, overall condition, alterations, and rarity. While the first several factors are considerations you'd think about regarding any jewelry, the latter is specific to estate jewelry.
Materials
The materials used in your jewelry, such as whether it contains 14k or 18k gold, will affect the value of your pieces. Gemstones and diamonds influence your appraisal and are assessed based on color, cut, clarity, and carat. Natural or untreated stones are also often worth more than other gems.
Craftsmanship
The construction of your jewelry also contributes to the quality and value of your piece. Jewelry that is well-made with components that fit seamlessly together and mechanical parts, such as hinges and clasps, that work smoothly can have a greater value. 
Beauty
While aesthetics and finding jewelry attractive is a personal choice, there are ways to measure the beauty of a piece. With an appraisal, the jeweler considers how well various components such as colors, design, size, cut and overall style work together.
Condition
You would expect most vintage jewelry to show some signs of wear. However, any issues that negatively impact the structural integrity or wearability of the pieces, such as broken clasps or discolored metal, can reduce the value of the jewelry.
Alterations
Alterations such as repairs, remodeling, or adapting a piece of jewelry can affect the value of your estate pieces. How well the jewelry is altered and how someone would feel about buying the adapted piece as it will influence the valuation.
Rarity
There is often more demand for pieces that contain rare and precious metals or gems, which can cause them to be valued at a higher price. Rarity can also factor in how many of these pieces were produced at any given time and how many are still available. 
Modernize Your Heirloom Jewelry
Taking your heirloom necklaces and rings and recreating them is an ideal way to update your jewelry and turn it into a piece that you love to wear. We provide exceptional custom jewelry services and can redesign your pieces into new styles or repair your antique treasures to ensure the settings are secure.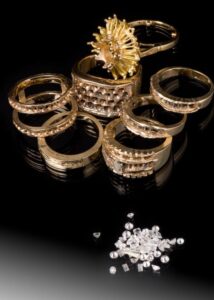 One benefit of our custom service is that our professional jeweler and craftsman hand carves every creation. Unlike computer jewelry designs, which require stone uniformity or the same size gems, hand carving means we can create a setting to suit each heirloom diamond regardless of different shapes or sizes.  
Consider these ways in which you can modernize your jewelry:
Add new

gemstones

to your heirloom piece. For example, you can add color to a ring by changing out the gem to one in your favorite color, such as a ruby or sapphire.

Recut the gemstones in a modern style. If you have a ring that displays a dated diamond cut, consider refreshing your piece with a new style cut and setting.

Rework the metal of the ring or necklace pendant to create a new design while reusing the gemstones. This way, you can hold onto the sentimental value of a stone while enjoying a new style.

Keep the original design and repair, re-size, and re-polish the piece to fit perfectly.
Professional Jewelry Appraisal With JPratt Designs
We provide exceptional jewelry appraisal and redesign services so you can make confident decisions about your estate pieces and wear rings, earrings, bracelets, and necklaces you love. Our appraisal service includes a confidential report with detailed descriptions of your jewelry. Our custom jewelry allows you to redesign and create unique pieces to suit your style using precious gems from your sentimental pieces. 
Contact JPratt Designs for a comprehensive consultation and professional jewelry services.
Stay tuned, more blog items coming soon!
Have a Custom Design in Mind?