Skip to Content
How to Choose Your Favorite Diamond Tennis Bracelet
Diamond tennis bracelets are stunning pieces of jewelry that you can wear on any occasion. Made famous by tennis champion player Chris Evert when she lost her bracelet during the 1978 U.S. Open, this glittering diamond jewelry makes a beautiful milestone gift. It will complement any wardrobe – elegant and sophisticated or casual and relaxed.
What is a Tennis Bracelet?
While the jewelry became more commonly known as 'tennis bracelets' after the famous tournament, they were initially called 'line diamond bracelets' due to their design. Each bracelet features a string of diamonds or gems connected by a thin metal chain resulting in a line of precious stones. Platinum and white gold tennis bracelets are a popular choice as the metal allows the diamonds to showcase their brilliance and stand out. 
Different Tennis Bracelets with Diamond Styles
A classic tennis bracelet features a single row of diamonds. However, there are many styles. Some styles include two or three rows of gems.   The most popular diamond cut seen in tennis bracelets is the round brilliant, however as these increase in popularity, more are made using all the other shapes of diamonds creating virtually any look at any size. There are also different settings, such as the bezel tennis bracelet. Each diamond is encircled with a strip of metal, making this simple and beautiful piece of jewelry stand apart from the rest. Other settings include four-prong, which is often seen with a single row of diamonds. The four prongs keep the diamonds secure in the bracelet, similar to what you see in a diamond ring. 
Two- and three-prong settings create an elegant bracelet for something slightly different on special occasions. However, they may require more care to ensure the diamonds remain in the setting. The three-prong bracelet can give your diamonds a triangular appearance, while two prongs look intriguing. These settings allow the diamonds to interact with the light more as they have minimal interference from the metal.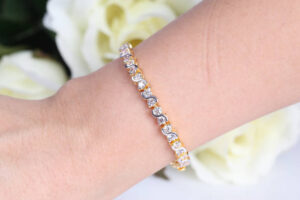 With a channel setting, you can be confident that your diamonds are held in place with two metal strips on either side. This style gives a structured and sleek look and can make your bracelet appear to have a continuous loop of diamonds. Multiple row bracelets can add more sparkle to your outfit, and with various settings and clasp options, you can create a truly stunning piece of jewelry when you opt for custom creation.
While these styles are the most popular tennis bracelets, numerous non-traditional designs can include alternating diamonds with other gems, such as rubies or emeralds and opting for shapes other than round. 
What to Look for in a Women's Tennis Bracelet 
There are four main features to consider when buying or creating a diamond tennis bracelet. These characteristics include the metal type, diamond quality, setting and clasp. The metal used for a tennis bracelet can change the look and feel of the jewelry. While there are numerous metal options, including white gold, yellow gold and platinum, you should consider their durability if you plan to wear your bracelet regularly. Platinum and white gold are durable options, and they allow the diamonds to stand out, while rose and yellow gold can give your bracelet a classic, vintage look and work as a piece of jewelry you wear on special occasions. The metal selection may also depend on your budget. Our team can guide you through the numerous metal options and create a custom design to match your vision and budget.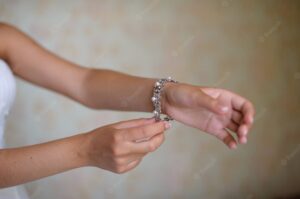 Knowing the difference between diamond colors and clarity may be difficult to determine without an in-depth understanding of the gem. We will take you through the process and explain what to look for in each stone so you can select the perfect diamonds for your tennis bracelet. However, some considerations when selecting diamonds can include choosing gems suitable for everyday wear that aren't too big. Ideally, the stones are uniform in size, look "eye clean" and appear colorless to ensure optimal glimmer and sparkle. 
Consider how many rows of diamonds you prefer and which setting best suits your style. A classic prong setting can appear more elegant, while channel and bezel settings offer a more sleek and stylish design. How often you plan to wear your bracelet can also influence the ideal setting, so ask our professional jewelers for recommendations if you are unsure. Finally, your clasp will finish the look of the bracelet. Most tennis bracelets have a spring clasp commonly found on necklaces. The small lever is easy to use and secures your bracelet to your wrist.
Regardless of your style preference and final decisions when selecting a tennis bracelet, be sure that you get the perfect fit. You want the tennis bracelet to fit comfortably around your wrist without being too tight or worrying that it may fall off. 
Design a Custom Diamond Tennis Bracelet with J Pratt Designs
Whether you desire a women's or men's tennis bracelet, you can create a bracelet tailored to your preferences with our professional and talented jewelers. We carefully take you through the design process and provide exceptional advice and direction so you can have a one-of-a-kind piece to suit your style and budget. Collaborate with our team for a stunning piece of jewelry that you will love for years to come.
Stay tuned, more blog items coming soon!
Have a Custom Design in Mind?