Skip to Content
Spring Jewelry Pieces You Need to Add to Your Collection
We know that fashion trends change often, and it can feel like a massive effort to keep your wardrobe up to date. While you can readily shop your favorite retail stores each season for new outfits, the quick turnaround on styles and endless outfit options can make it seem overwhelming and expensive. Thankfully, wearing jewelry can positively impact your outfit, giving it a fresh look and taking it from just OK to breathtaking.
The beautiful and bold jewelry trends for 2023 won't disappoint — there's an array of options and something to suit everyone. From a stunning pair of eye-catching earrings for the daring to bold arm candy for a modern-edgy look to layers of necklaces for some extra oomph, you can find the perfect finishing touch to any outfit.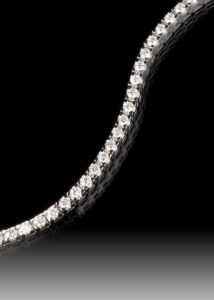 Whether you're a jewelry fanatic and love to change up your style or you have sentimental pieces that you wear every day, remember that jewelry is a fun and effortless way to express your style. You can easily combine a signature necklace with the latest trend through layering and statement pieces. 
The trickiest part is choosing which pieces to add to your look for some extra flair, so we've chosen our favorite spring jewelry trends coming off the runway this season.
Stacking Bracelets
Springtime means warmer weather and swapping out your winter tops for light short-sleeved blouses or t-shirts, creating the opportunity to adorn your wrists with lots of arm candy. While this trend surprises some people, stacking bracelets is the perfect way to elevate an outfit and make a style statement with simple pieces of jewelry. If you're not quite ready to commit to multiples, start with a classic tennis bracelet or diamond hinged bracelet. Either of those pieces give you the versatility and foundation to add more as you get more daring with your jewelry wardrobe.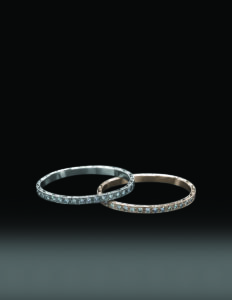 Oversize Earrings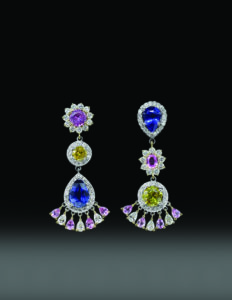 Big and bold seems to be the trend for spring 2023, and that includes earrings. Chandelier earrings are one way to make a statement and add flair to an outfit. You can readily include color to earrings with stunning gemstones or include a point of interest with complex designs. If you prefer a simpler style, you can still stay on trend with classic ear studs or diamond hoops.
Chunky chains and dramatic pendants are making an appearance as the latest jewelry trend. Simply exchanging your dainty necklace for something with more substance is an effortless way to modernize your look. 
Bracelets
Bracelets are boasting a "bigger is better" theme. Chunky bracelets are an easy way to show off your personality or add fun to any look, especially if you're heading out to an event. If you have a few bangles tucked away from past trends, now is the time to bring them back on display and add a few more to your collection.
Embrace Jewelry Trends With a Custom Design from JPratt
Wearing jewelry is more about personal style and being able to express yourself. However, that doesn't mean you can't embrace the latest trends. You can easily put your spin on the latest styles with a custom necklace, bracelet, or earring design from our experienced jewelers. 
At JPratt Designs, we provide exceptional customer service and take the time to guide you through the design process to ensure your finished piece meets your ideal aesthetic and style. We use premium materials and quality gemstones to create unique jewelry tailored to your preferences. 
Contact us for more information about custom jewelry or make an appointment for a comprehensive, complimentary consultation.
Stay tuned, more blog items coming soon!
Have a Custom Design in Mind?