Skip to Content
How to Choose The Best Earrings for Your Face Shape
Earrings are the perfect jewelry accessory to enhance your look with minimal effort. You can look classy and elegant, add some color to an outfit, or make a statement depending on the style of earrings you choose. However, wearing earrings that don't complement your face shape can throw off your entire look and enhance your flaws. 
If you're wondering how to choose earrings to suit your face shape, select earrings that contrast with your facial features. Our guide provides more detail and examples so you can have an enjoyable shopping experience or create the perfect custom earrings to suit every outfit and occasion. 
Round Face Shape
Round faces have wider cheekbones and an overall circular form. The ideal earrings for a round face shape lengthen the face and balance out your features. You'll notice your face stands out more near your ears, while your forehead and jawline are narrower.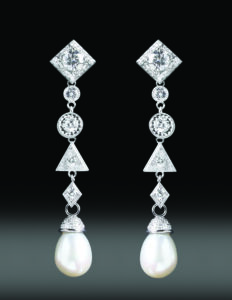 We recommend wearing sleek and long styles such as drop or dangle earrings that will give the illusion of elongating your face. The best accessory practice is to avoid round or hoop earrings that can make your face appear wider.
Heart Face Shape
Choosing the perfect pair of earrings is all about balancing your facial features. Those with a heart-shaped face tend to have a wider forehead than their cheeks and a narrow chin, similar to an inverted triangle. Your goal is to balance the triangle with earrings wider at the bottom than at the top. 
Chandelier and tear-drop earrings will counterbalance your pointy chin and give a flattering look. These earring styles also remove the focus from your forehead and instead put it on your eyes, cheekbone, and jawline. 
Square Face Shape
Similar width forehead, cheeks, and jawline are characteristics of a square face. There's minimal narrowing between each segment of the face, and you'll notice a strong jawline. 
Earrings that suit square faces soften features and minimize your strong facial structure. Consider medium to long earrings with round or oval shapes. Hoops and curved, flowing earrings will counteract your face's symmetrical structure  and harder angles.
Diamond Face Shape
Diamond face shapes display a narrow forehead and chin with slightly wider cheekbones and prominent eyes. You'll want to balance your features with wide accessories rather than long ones. 
Choosing earrings for a diamond face shape can seem difficult. Nevertheless, we recommend wearing studs that sit close to your ear or opting for chandelier earrings that are wider than long and sit close to your earlobe. You can readily mix up and have fun with your earring designs, choosing between curves and straight lines, which can flatter your face shape.
Oval Face Shape
Those with an oval face shape are lucky enough to suit almost any earring style. Your forehead is not too wide and blends beautifully with your cheekbones before angling back into a narrow, slightly rounded chin.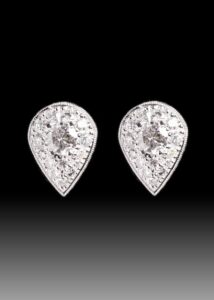 Earring options for an oval face shape may seem endless, as multiple styles flatter and complement this evenly proportioned silhouette. Despite this, triangular accessories or simple studs can highlight your cheekbones easily. You can also enjoy wearing teardrops, huggies, or hoop earrings. Just be wary of anything that elongates your face.
Long and Narrow Face Shape
Long, narrow faces should be balanced by round, wide earrings with volume. You want to draw the eye across your face and enhance your cheekbones rather than emphasizing the length of your face. 
We recommend choosing short, dangle earrings or medium to large hoops to flatter your face shape. 
Custom Earrings From JPratt Designs
You can always ensure you wear the perfect earrings to suit your face shape with custom jewelry from our talented design team. We have three decades of experience working in the industry and provide our customers with exceptional service. 
Our designer will guide you through the first stages of your custom jewelry design and provide professional advice to ensure your vision matches the end product. Our master craftsman will then carve your custom jewelry by hand, paying attention to detail and using premium materials and gemstones for a quality jewelry design. 
Get started on the custom design process with a comprehensive consultation with our team. Contact us to make an appointment.
Stay tuned, more blog items coming soon!
Have a Custom Design in Mind?