Skip to Content
Everything You Need to Know About Eternity Rings
Eternity ring, anniversary band, layout band, celebration ring, infinity ring: This special piece of jewelry has numerous names. It also comes in many styles, from classic eternity rings that feature gold bands and uniform diamonds to geometric stunners that flaunt various cuts and settings. Yet, regardless of its moniker or chosen aesthetics, one thing remains the same: the enduring love this ring symbolizes. 
Eternity Band Meaning
For centuries, couples have given each other wedding bands as they exchange vows; eternity rings, on the other hand, have traditionally been gifted to celebrate a special anniversary. A symbol of your commitment and time together as a couple, this ring is also a representation of your everlasting love. 
History of Eternity Bands
The idea behind eternity bands dates back to ancient Egypt. Egyptians believed that marriage and love were strong enough to last for an eternity, and even death couldn't break the bond between a husband and wife. To represent this belief, a symbol of love in the form of a circular band or ring, usually made from bone or metal, was worn.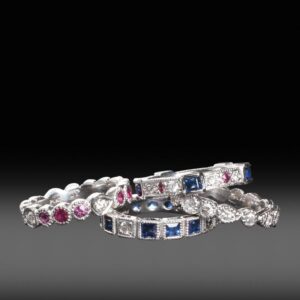 The modern-day eternity ring came about in the 1960s, when large solitaire engagement rings became popular. In turn, the diamond market became flooded with less-desired, smaller-carat gems. Adjusting to the trend, jewelers began mounting several diamonds onto platinum and gold bands, and selling them as eternity rings. Their target audience was married couples looking for anniversary gifts. 
How Is an Eternity Ring Different From Other Bands?
Unlike a plain gold wedding band, an eternity ring features a set of sparkling gemstones, usually diamonds. And different from an engagement ring, which typically features a large stone, an eternity ring has either uniform-sized diamonds or gemstones surrounding the entire band or half the band. Half-eternity rings, as the latter is called, are also a very popular choice. 
Over the years, the difference between a women's wedding band and an eternity ring has become less noticeable. People are now mixing and matching ring styles to reflect their aesthetics and personalities rather than buying complete wedding band sets. Women also choose eternity rings to wear as diamond-studded wedding bands, adding more sparkle while representing their change in status from engaged to married. 
This method of jewelry selection has offered women and men more freedom and choice, as well as the chance to customize their rings or opt for matching couple's eternity wedding bands.
Eternity Ring Styles
Eternity rings come in full and half styles. The full style features a band with diamonds going all the way around; the half style has diamonds covering only part of the band. In addition to full and half styles, there are various diamond cuts and settings to choose from, ensuring your eternity ring complements your wedding band, personal style, and other jewelry.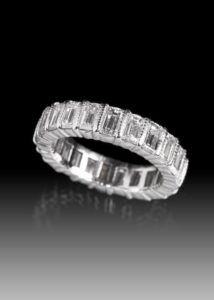 You could opt for a classic style with round brilliant diamonds in a prong setting or embrace a geometric stunner with emerald-cut diamonds. Oval eternity rings make a statement and give optimum sparkle, while pear-shaped gemstones offer a unique and alluring aesthetic. With numerous gemstones, cuts, and settings, you can create a custom, one-of-a-kind ring perfect for you.  
How to Choose an Eternity Ring
Whether you've been with your partner for a year or half a lifetime, an eternity ring is an ideal gift to celebrate your devotion to and appreciation for one other. Choosing the perfect ring can take careful consideration and time, so the process shouldn't be rushed, especially if you want to complement unique rings, such as an emerald wedding band.
We recommend setting a budget once you've decided on the ideal occasion to gift the ring. Our team creates a wide range of custom rings and can assist you in designing the perfect ring to represent your love and suit your budget. The eternity ring selection process includes choosing your gemstone shape and setting. There are numerous options, with round diamonds being popular; however, oval, emerald, and pear diamond shapes are beautiful options that offer a unique look. You can also further personalize your ring with an engraved message, such as your wedding date or partner's initials. 
How to Wear an Eternity Ring
An eternity ring is traditionally worn on your left ring finger as a complement to your wedding band set. The order for wearing the wedding, engagement, and eternity ring varies from person to person, but typically, an anniversary ring is stacked in front of the engagement ring. That said, there are no set rules for how to wear your eternity ring; some women even choose to wear their diamond band as a stand-alone statement piece on their right hand. 
How to Care for Your Ring
Similar to other fine jewelry, your eternity ring requires regular care and maintenance. You should have your rings regularly assessed by a professional jeweler to check that the settings are still in optimum condition and the metal has no scratches. In between professional cleanings, you can maintain the diamonds' sparkle with weekly ring cleaning at home using household items, such as a soft bristle toothbrush and warm soapy water. 
Create a Custom Eternity Ring With JPratt Designs
We have extensive experience designing and handcrafting the eternity ring as a wedding band for women with varying personalities and unique styles. Whether you love the stunning aesthetic of a pear-shaped diamond or the beauty of a marquise cut, we can create a custom design to suit your budget and style requirements. Our friendly and knowledgeable team provides comprehensive guidance at every step of the creation process, from concept and gemstone preference, to metal selection and design adjustments.
Stay tuned, more blog items coming soon!
Have a Custom Design in Mind?