Skip to Content
The Complete Guide to Men's Wedding Bands
When it comes to weddings and marriage, rings for men are often an afterthought. However, as you will be wearing it for the rest of your life, choosing the perfect band takes some careful consideration. Our guide to men's wedding bands takes you through the various features to consider during the selection process. With a better understanding of men's fine jewelry, you can choose a ring that suits your personality and style effortlessly. 
Ring Metal Selection
Wedding bands for men come in a vast array of ring metals, including palladium, white gold, titanium, and sterling silver. However, there are numerous benefits to choosing platinum or yellow gold for your ring. 
Platinum remains one of the most durable metals for men and fine jewelry. It is hypoallergenic and has a natural white finish that won't discolor or fade, making this metal ideal for men who frequently work with chemicals or have labor-intensive jobs.  
Yellow gold offers a warmer tone and is a classic choice that won't fade or tarnish over time. Though this metal is softer than others, it is also very durable, rust resistant, and more affordable than platinum.
Men's Wedding Band Styles
There are numerous wedding band shapes, including classic, domed, flat, and beveled. The classic shape is a timeless style that features a rounded inside and outer surface. A flat ring has a flat exterior and offers a more modern appearance. A domed ring combines the previous two shapes and boasts a rounded outside with a flat inside, similar to a D shape, which fits closer to the finger. A beveled wedding ring is similar to the domed band in that it has a rounded appearance, yet the edge is cut at an angle.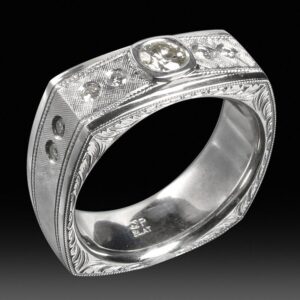 If you enjoy the look of unique wedding bands, the knife-edge ring is a contemporary style with a flat inside, while the outside features two slopes meeting in the middle, similar to an upside-down V. Another alternative style for men's gold wedding bands and beyond is the coin style. This shape showcases a grooved pattern around the edge of the band. 
Our knowledgeable team can assist you with men's custom jewelry design and male wedding rings to ensure you get the perfect and most comfortable shape for your finger. 
Comfort-Fit Band vs. Standard-Fit Band 
There are two options for the fit of your band: comfort or standard. Comfort bands have rounded edges inside, making them feel more comfortable. They are also easier to slide on and off your finger, and are perfect if you have bigger knuckles. Standard-fit rings have flat insides and fit snugly on your finger. We recommend trying on both styles to see which shape feels more comfortable to wear. 
Men's Band Width 
Choosing a wedding band width is an important step in the selection process, as it greatly impacts the overall look. Most men's rings are between four and eight millimeters wide, with the standard size being seven. Generally, if you have long or large fingers, you want to balance this out with a wide ring, while short or slim fingers tend to suit narrower rings. 
If you already wear a ring, take note of your ideal width; if you're new to the ring selection process, be sure to try on various widths before picking your favorite size. If you're opting for a men's custom jewelry service to create your wedding band, then you can select any width you prefer.
Band Metal Finish
Men who want custom jewelry can select any type of band finish to complete their ideal ring. The polished look is a classic, popular style with a smooth and reflective finish, but it can show scratches easily. Matte rings, on the other hand, have a smooth finish similar to a foggy mirror rather than a reflective surface, and are better at hiding scratches.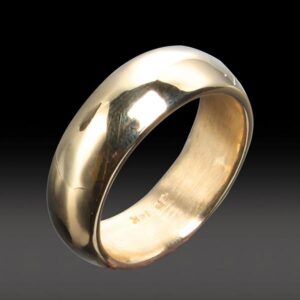 Brushed finishes are similar to matte bands in that they have low shine, yet differ as they feature subtle texture similar to brushstrokes. Hammered bands have the shine of a polished ring, but are dulled by the appearance of small dents or dimples. 
Lastly, a combination finish blends two finishes you love to give your ring a unique and modern look. 
Ring Size
You can always get the perfect-size ring when you opt for custom jewelry. Men's bands should fit comfortably without feeling too loose or tight. If you can get a ring on easily, yet it slides off when you wash your hands, you'll spend your life worrying about it or likely won't wear it for fear of losing it. Our men's jewelry designer will ensure your wedding band is a perfect fit. 
Personalized Men's Wedding Rings in Dallas, Texas
When looking for men's wedding bands in Dallas, JPratt Designs experienced and professional jewelers can create the perfect ring. Our extensive knowledge and comprehensive service make the custom creation process fun and effortless. We have a variety of ring samples for you to view and try on so you can readily select your ideal style, shape, and size. Our skilled jeweler also provides outstanding hand engraving, which can add a personal touch to your wedding band.
Contact us for exceptional custom jewelry services to suit various styles and budgets. 
Stay tuned, more blog items coming soon!
Have a Custom Design in Mind?