Skip to Content
Best Summer Jewelry Care Tips
With the warm weather and sun shining down, summer is the perfect time to get outdoors and head to your nearest hiking trail, hit the beach, or enjoy your favorite outside activity. As you think about the essentials you need to take, such as sun protection and a water bottle, don't forget to put jewelry care on your list of things to do. 
Summer is a critical time to increase your jewelry care and show your rings some extra love, as saltwater, sand, sunscreen and other elements can damage your diamonds or leave your gold looking lackluster. With our easy and useful tips, we'll show you how to take care of your jewelry so you can enjoy its sparkle and sentimental meaning for many more years.
Keep Sunscreen Away from Your Precious Metals
Sunscreen, tanning lotions, and body moisturizers can leave residue on your jewelry and dull the sparkle of your diamonds. The buildup on your rings can also loosen the prongs holding your gems in place, which you may not realize has happened until your diamond is missing.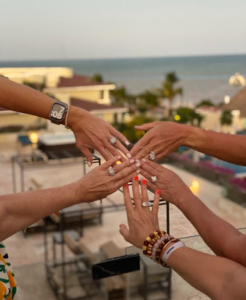 We recommend removing your necklaces, rings, and bracelets before applying sun protection and waiting until the lotion is dry on your skin before putting your jewelry back on again.
Remove Jewelry While Swimming in the Ocean or Pool
The best jewelry care tips are the ones that require minimal effort. Taking off your jewelry before getting into the ocean or pool is a simple way to prevent saltwater and chlorine from tarnishing your metals or dulling your gemstones. Chemicals can erode your jewelry, leaving your bracelets and rings brittle and requiring professional repair. 
You can easily keep your stones and metal looking beautiful by leaving them safely in your jewelry box at home. 
Minimize Wearing Jewelry Near Sand
An essential jewelry tip to remember at the beach is to minimize the contact between the sand and your rings or bracelets. There is something therapeutic about feeling grains of sand massage your skin, but it's not so beneficial for your rings. Stones and sand can have a sandpaper effect on your jewelry, leaving behind scratches and removing shine from the metal. 
If you can't go without jewelry for your summer activities, opt for beach-friendly pieces or keep your contact with sand limited to shaking it off your towel rather than building sandcastles.  
Avoid Sweating on Jewelry
Sweat and oils on your skin can negatively affect the appearance of your necklaces, bracelets, rings, and other jewelry. While summer is the perfect time to get outside for some vitamin D and enjoy the sun's warmth, sweat can cause your jewelry to tarnish faster, especially for your silver or custom pieces. Skin oils can also leave residue on your rings, making them appear dirty and dull and causing damage to the metal finish if left unclean. 
Some jewelry tips to minimize the effects of sweat include wearing your necklace on the outside of your top rather than next to your skin and accessorizing with earrings rather than chunky bracelets.
Secure Jewelry While Traveling
One of our most important tips for jewelry in the summer is to take care while traveling. You can save yourself the heartache of losing a sentimental heirloom or your engagement ring by limiting the amount of jewelry you take on vacation. Consider only taking versatile pieces you can wear for various occasions, and be sure to pack pieces separately, so they don't rub against each other.
You could also consider investing in some travel jewelry, such as a replacement wedding band or stud earrings that you can wear while traveling overseas. This way, you won't have to worry about how to care for your jewelry as you can have peace of mind knowing that your other precious and more valuable items are safe and secure at home.
Clean Jewelry Regularly
Regular cleaning is an essential part of every jewelry care guide. Not only does cleaning remove dirt and residue and bring back the sparkle to your diamonds, but it also gives you a chance to assess your jewelry for any damage.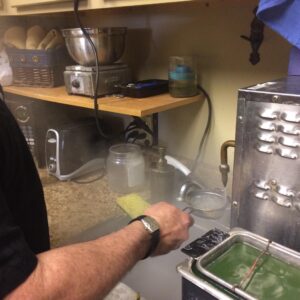 An easy way to clean your jewelry at home is to rinse your rings with warm water and mild soap and then dry them with a soft cloth. Check your gemstones to ensure they are secure. If you notice any loose prongs, latches, or worn metal, take your jewelry to a professional jeweler for a quality repair service.
Get Professional Jewelry Services With JPratt Designs
When it comes to taking care of your summer jewelry, we have more than 30 years of experience in the industry. Our experienced and professional team of jewelry designers and craftsmen provide exceptional custom design services and repairs. Contact us for repair advice or to make an appointment for a consultation. 
Stay tuned, more blog items coming soon!
Have a Custom Design in Mind?